KMU Hospital
KMU Hospital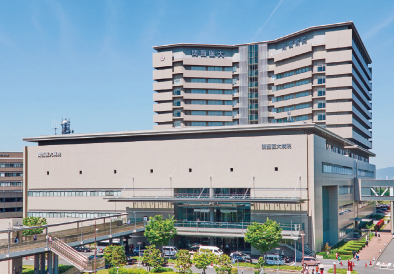 KMU Hospital is Easily Accessible, Offering State-of-the-Art Medical Care in a Safe and Comfortable Environment
Hospital Overview
KMU Hospital opened in January 2006. It started as a specific function hospital, but was authorized as a general perinatal medical center that March, as a disaster base hospital in October 2006, as a tertiary emergency center in February 2008, and as a cancer treatment cooperation center in April 2010. Furthermore it was authorized as an advanced emergency and critical care center in May 2012, and then as an allergy treatment hospital in Osaka in June 2018, firmly establishing it as a core hospital in the Kita-Kawachi district.
Conveniently located a three-minute walk from Keihan Railway's Hirakatashi Station, KMU Hospital is blessed with a total floor space of 71,851m² situated on a 31,612m² site and features a rich, green therapeutic ambiance capitalizing on the natural environment of the Yodogawa Riverside Park located nearby.
In regards to treatment structure, we have been promoting the development of centers where multiple disciplines can interconnect.
In recent years, we have established the Cancer Center, Pediatric Medical Center, Kidney Center, Heart Center, Clinical Genetic Center, Allergy Center, Intractable Diseases Center, and Pain Center.
We have continued to strengthen the treatment capabilities of our facilities, introducing the surgery-assisting Robot da Vinci Si in June 2013 and establishing a state-of-the-art hybrid operating room for advanced and safe operations in June 2018.
We will continue to strengthen our medical treatment capabilities even further, and strive to provide the latest treatment safely and reliably, as we aim to fulfill our social responsibility as a university hospital equally open to all people.
Note that the name was changed to "KMU Hospital" from "KMU Hirakata Hospital" in April 2016 to clarify its function and role as a university hospital. In April 2018, it was recognized by the Japan Council for Quality Health Care as a core hospital in the Kita-Kawachi secondary medical area for supporting regional treatment, particularly emergency medical treatment.
Enhancing minimally invasive surgery and strengthening the medical system
KMU affiliated hospitals are focusing efforts on minimally invasive surgery and treatments to reduce patient stress and improving facilities and treatment regimens. In addition, we are working to further strengthen out treatment structure, by increasing the number of rooms for dental and oral surgery outpatient care, and establishing allergy center outpatient and pain center outpatient treatment.
Tailoring highly safe surgery procedures to patients
In June 2018, KMU affiliated hospitals introduced state-of-the-art hybrid operating rooms for performing highly safe surgical procedures. Rapid response surgery and angiography procedures which were once difficult due to the need to use different room can now be performed in one operating room, thereby shortening treatment times and reducing patient stress.
Faster, clearer, gentler
By upgrading our PET-CT in March 2020, low exposure and reduced time were achieved, and the resolution, and quality of extraction for fine agglutinations were improved, providing for more suitable and accurate treatment.
Performing precise surgery using high resolution technology
An 8K endoscopic camera has been introduced for pediatric surgery. With its high-resolution images allowing precise surgical procedures, we are striving to preserve future physical function of pediatric patients.
Perioperative oral care and treatment of oral surgery diseases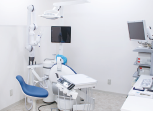 Since the relocation/increase in rooms at the dental/oral surgery department for outpatients in March 2019, KMU is performing oral surgical treatments,
along with specialist oral cavity function management in perioperative oral health care.
Recognized as a hub for allergy treatment in Osaka
KMU affiliated hospitals received recognition as a hub for allergy treatments in June 2018, and an allergy outpatient center was opened in April 2019 to further enhance diagnosis and treatment of allergies.