KMU Medical Center
KMU Medical Center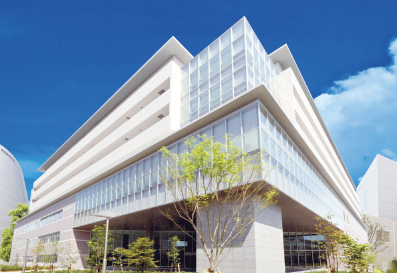 Providing Healthcare throughout the Kita-Kawachi Area

Hospital Overview
In May 2016, the former KMU Takii Hospital changed its name to KMU Medical Center (KMU-MC), opening a new, 296-bed main hospital building offering seven floors above ground-level as well as a basement floor. The north and south buildings were renovated at the same time, giving the hospital a new lease of life as a 477-bed facility with close ties to the local community.
In May 2018, a green and leafy hospital garden was completed on the site of the former main hospital, providing a haven of rest and relaxation for local residents as well as patients.
Since its opening, KMU-MC has been the flagship hospital within Osaka Prefecture's Kita-Kawachi district. It works closely with Kansai Medical University to develop and practice advanced, pioneering healthcare. At the same time, it nurtures medical practitioners who demonstrate both compassion and solid accomplishment in the course of day-to-day medical care. A system of internal "Centers" delivers the best possible team-based care for each patient, transcending the limits of individual clinical departments.
KMU-MC also offers at-home support for discharged patients who are reliant on medical treatment. Furthermore, it seeks to establish community healthcare services for Japan's aging population and fulfill its role as a university-affiliated hospital by providing opportunities for the education and training of doctors, medical students, and nurses who will play roles in community healthcare.
To this end, in January 2019 it opened a center providing at-home nursing care and a center offering assistance with home-based care (the Care Plan Center), followed by a day care center for seniors in March of the same year. On March 10, 2020, KMU-MC was officially designated a "regional medical care support hospital" as defined in Japan's Medical Care Act.
KMU-MC puts patients first, practicing healthcare that employs groundbreaking medical technologies, inspired always by the cardinal principle of being a patient-oriented hospital with compassion at its heart.

Aspiring to Be the Hospital People Choose for Their Loved Ones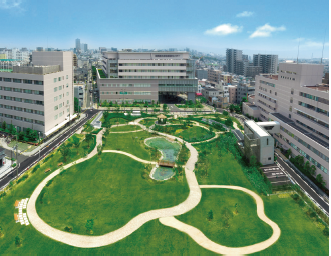 Connecting with the community, more than ever: Our new hospital garden opened in May 2018.

Former Main Hospital Site Transformed into an Oasis of Greenery
In May 2018, the site of the former main hospital was reincarnated as a hospital garden. This area the size of a soccer pitch is now a haven of rest and relaxation available to both patients and local residents.
Multiple Centers Deliver Team-Based Care
Professionals from different clinical departments collaborate across a total of 33 centers to deliver team-based care. For example, the Emergency and Critical Care Center is equipped with the world's first dual-room sliding CT scanner system with interventional radiology features (dual-room IVR-CT); the Trauma Center performs initial treatment and radical treatment for injured patients brought in by ambulance; the Arrhythmia Treatment Center provides patients with cutting-edge, optimized therapies for arrhythmia. Other centers include the Cardiovascular Center, the Mental Illness and Physical Complication Center, the Prosthesis Center, the Endoscopy Center, the Liver Disease Center, the Breast Center, the Thyroid Surgery Center, the Chemotherapy Center, the Cancer Treatment and Palliative Care Center, the PET Center, the Vitreoretinal Center, and the Rehabilitation Center.
Pioneering the Establishment of Cutting-Edge Facilities
KMU Medical Center was the first university-affiliated hospital in the Kansai region to set up an operating room exclusively for eye surgery equipped with a radiant heating and cooling system, as well as an operating room exclusively for 3D endoscopy.
Spacious Patient Rooms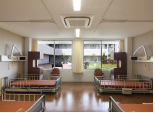 Most of the patient rooms in the main building now have four beds. The refurbishment of the north and south buildings adopted the same spacious design, and the hospital as a whole now boasts a total floor area per bed of around 90 m2.
An On-Site Dispensary Makes Life Easier for Patients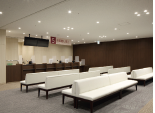 When its main building opened after being rebuilt, the newly named KMU-MC transitioned to an on-site dispensary system, reducing costs and improving convenience for patients.
Comfortable Consultation Areas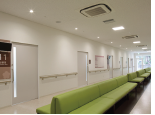 An outer corridor separating the outpatient waiting area from the external environment reduces noise and fluctuations in temperature, providing a more comfortable visitor experience.